In the latest Black and white filmed Sainsbury's commercial, you can see Acme Graphics posters from stock library. Acme has a wide range of posters to dress any set. We also provided generic paint tin for the character action prop.
The latest Mcdonald's commercial celebrates the 50th Birthday of the Big Mac. We were asked to make some graphics to illustrate the shoot through the decades of 1970s, 1980s and 1990s. We made some carrier bags, van graphics, tax discs, and a backlit menu.
Acme Graphics create 3D graphic props for action props or set dressing. Package design of food & drinks, cigarettes, condom packets, toy boxes, toiletries to dog food. We have a library of packaging that can be used with name clearance and we can print and make it! Cigarettes have changed - we we have to keep up
We often get asked to make Graphic Prop Passports, the first step in the process of making a prop passport is to get permission from the relevant passport office. For UK passports your production must contact the Crown Copyright, Copyright and Information Policy Adviser. We have UK passport covers in stock as well as all the necessary Artwork for
New for Acme Graphics! We make graphic prop generic Passports with printed or gold leaf embossed detail on front covers. Acme now have a range of generic Passport designs for front & inside pages. This is ideal for action props as gaining clearance on real passports can be difficult for productions to obtain quickly. Acme passports
The latest music video for The Horrors, "Something to remember me by" included some explicit graphic prop package design. Showcasing our various prop making techniques from perspex cutting to package design of products like sex toys, soap and lipsticks.
Acme graphics were commissioned to create the Graphic Prop makes involved in THE HORRORS latest video, in which the band give their bodily juices to the Music Industry in name of Music. Prop Makes of the packaging for the gruesome products the band's bodily juices are turned into for the song "Something to Remember me by".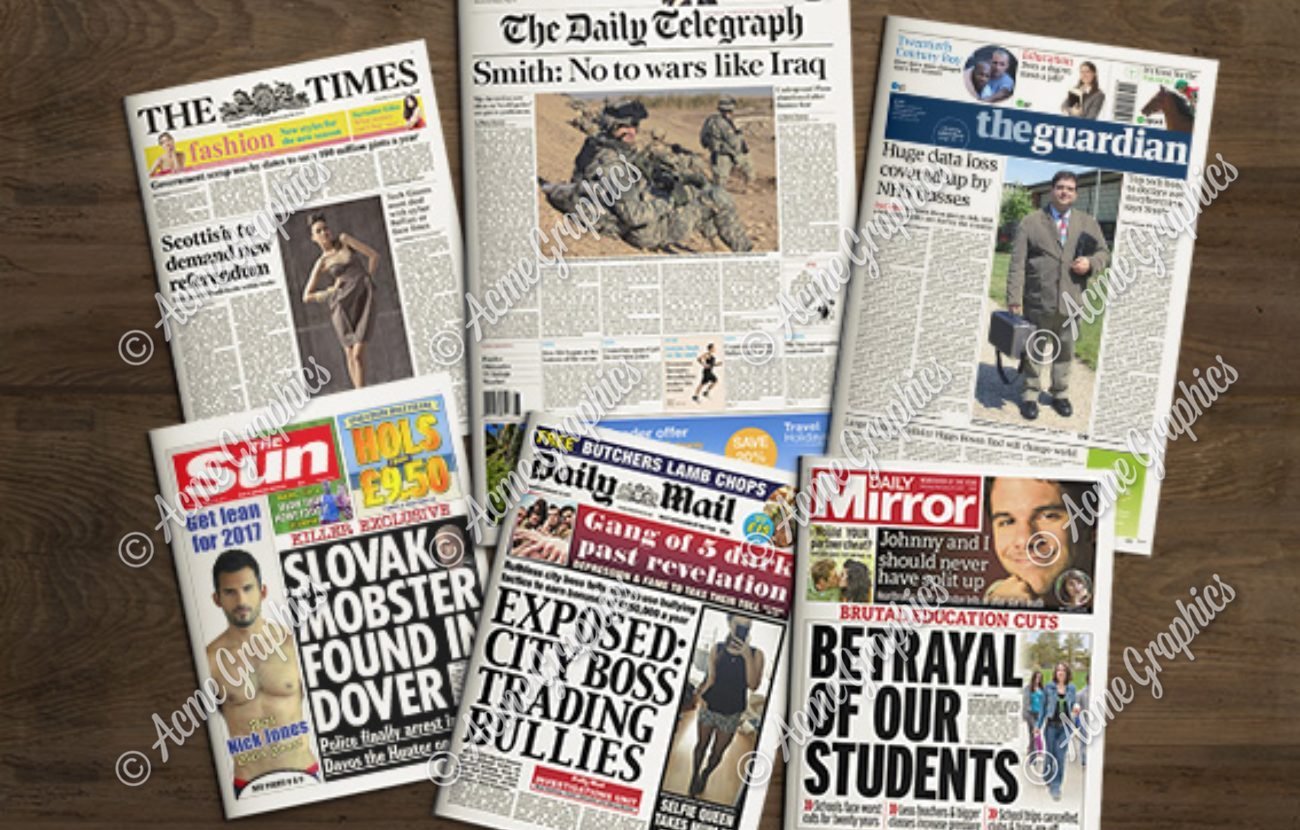 Newspapers have changed in size and design over the last year and Acme have kept up to date with new 2017 layouts. Here are a selection of Acme made newspapers with cleared images from Acme Library - ready for your scripted articles/headlines for Hero Props We also have newspaper designs on file, ranging from 1900 throughout 20th
We were commissioned to design a character that was transformed into an inflatable 3D character called a "Blownup" for a Ford Commercial earlier this year. The illustration was turned into an inflatable "Grown-up',  that would encourage safe driving as statistically there are less accidents in cars when there are older adults present.
Hero Action prop make boxes for John Lewis Commercial. The action on the boxes requested was that a long procression of objects were pulled out of the boxes, so they needed to be sturdy and functional to allow repeat action.