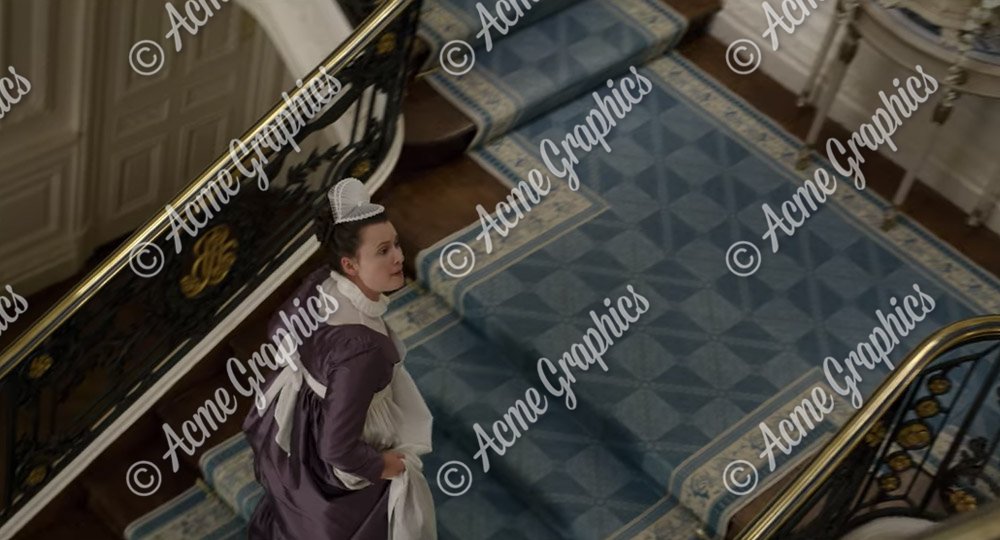 Acme provide period rug and carpet designs for Bridgerton
Bridgerton is a new period drama series created by Chris Van Dusen and produced by Shonda Rhimes, currently streaming on Netflix. It is based on Julia Quinn's novels set in Regency London high society during the season, when debutantes are presented at court.
Acme Graphics were commissioned to recreate the carpet designs, rugs and runners to dress multiple locations and set floors. It is not possible to purchase or hire carpets of the quality, size and colours required for the production designer Will Hughes-Jones' vision of colour signatures to denote the houses of the two main families featured.
We were supplied with lots of reference material and detailed art direction by Gina Cromwell the series set dresser. We worked through various iterations of the designs to achieve the look and period detail to match the sumptuous locations and sets.
The Bridgeton family signature colour is Wedgewood Blue and appears across the sets and costumes, whereas the Featherington's colour is a light green. Both families have their own symbol, the Bridgerton symbol is a bee, while the Featherington's is a butterfly.
All of the carpets, rugs and runners were printed by a specialist carpet printer in Belgium and shipped to the UK for dressing on set.
We can design and print all floor coverings from wooden boards, mosaics and tiles to carpets and lino to add an authentic and convincing finish to set and locations at relatively low cost.