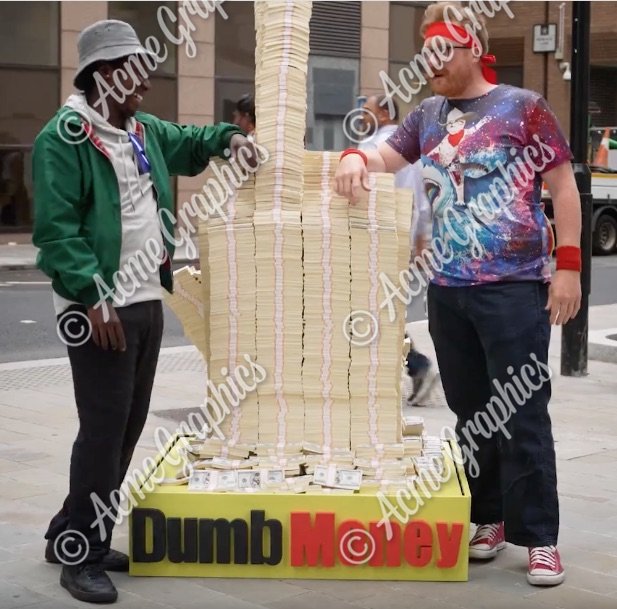 $40,000,000 USD in prop banknotes
Dumb Money is a comedy drama about r/WallStreetBets' GameStop stock, short squeeze hijinks events from January 2021. Based on a true story it is due to go on general release by Sony Pictures on 29th September 2023.
Acme Graphics were originally requested to create a life-size (5 foot tall plus) sculptural prop in the shape of a hand 'giving the middle finger' made from stacks of banknotes, to be presented at the film launch event. We eventually provided 4,000 authentic looking, custom 100 x $100 bill stacks wrapped in printed $10,000 bank bands. The stacks equating to $40 million dollars, were assembled to form the large hand gesture.
Large banknotes prop for the Dumb Money film launch, publicity events
The item was also brought out into the daylight at a promotional, publicity stunt in the city of London, as covered in a video on the joe.co.uk website.
When supplying prop money, in this case USD or any other foreign currency, we always apply the stringent rules and restrictions specified by the Bank of England. 
You can review images of the prop money we have provided in the past – on our website, however if you have the need to order prop banknotes, contemporary or period, whether a few notes in a wallet, or maybe $40 million in stacks wrapped in printed bank bands, please contact us.