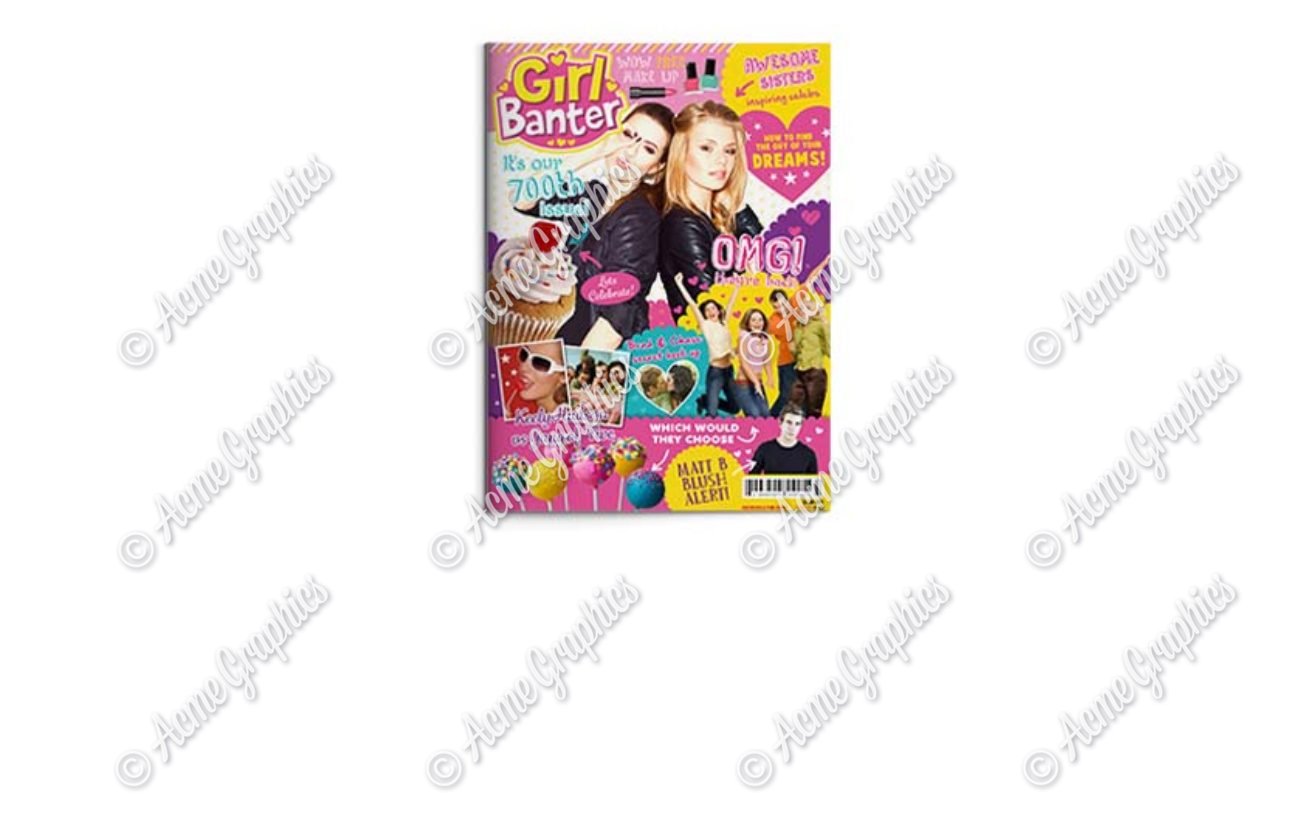 Acme Graphics have a stock of Generic magazines for action props or dressing sets. Interior Design, Architecture, Men's Magazines, Women's Fashion, teenage and gossip magazines. This is the latest one for 'Murder in Successville' made into an action prop. Generic design with library stock images and clearable name of Production's choice.
Acme design logos for everything from cups to pubs. Logos for shops, companies cut from vinyl and printed on merchandise or signage on any production.
Motion graphics can be created and loaded onto portable devices on Film Sets to assist the actor and scroll though pages as an animated sequence of graphics in action. Any device, Apple or Analogue, iPad, laptop, phone, hospital equipment, digital screens of any kind. The Actor can scroll through page changes as per script - all artwork of
Pop Up signs printed at Acme - all artwork with clearable library stock images. Good for corporate set dressing like conferences, hospitals, offices, entrance halls and award ceremonies.
Logo design by Acme used throughout the sets of Loaded. Logo design can give a brand identity. Logo used on signage, merchandise like mugs and stickers to give show recognisable identity and continuity of visuals.
Acme creates alcohol and soft drinks labels. Printed on vinyl and laminated to provide a waterproof finish for action props. Period prop to contemporary styles.
Soft drinks, beer, lager and stout designs can have cleared names added to existing artwork. Printed and laminated wrap-around labels for cans. A soft drink can design can be altered to meet production requirements
Acme also does Prop making as well as graphic design. Books, magazines, licence plates, road signs with metal effect, prop passports, bookbinding. Check this Graphic Prop book for Todd Margaret on Channel 4 here in the UK.
3D effect wall panels designed to create a virtual set of wood panelling, fireplace, flock wallpaper surface. Created in virtual reality by Acme Graphics and printed and mounted for a Nike Exhibition space, to experience a virtual set. Digitally created wall panels printed on fabric and stretched on a frame to create wall panels with no construction for